She said 'No' to Oregon and Arizona State and chose an HBCU
Updated: January 25, 2021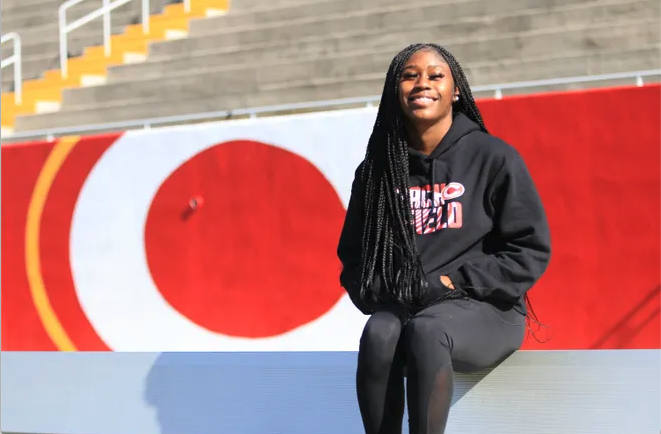 Lashanti Williams, a senior at Clarke Central, is one of the top runners in the country. She recently recorded a long jump of 19-feet, 0.75 inches, ranking in the top 10 in the country this year.
Williams has earned a reputation as one of the top 2021 track and field recruits. She will be running for North Carolina A&T in college after her announcement on Friday evening.
She credits her mentor for keeping her running.
"Coach Jones believed in me and he put in a lot of time to help me get where I am today," Williams said. "I've got someone that's there for me. That's going to help me, so why not keep going?" 
There were sacrifices on both ends. Williams has had to move away from her mother, father and siblings for the last five years. Jones and his wife were given a crash course on raising a teenager while also raising a young child of their own.
"Her mom and dad trusted me to make sure that she not only competed well, but she's got to eat and all those other things," Jones said. "I told her my mom and dad and my family as well, because there had to be a mutual agreement on both sides that this wasn't a unilateral decision."
Williams has truly become a member of the Jones family. It began with Jones wanting Williams to live up to her potential. A deeper bond has developed over things that have come up in the guardianship portion of their relationship.
"For Lashanti, I wanted her to see the deal through," Jones said. "Looking back on it, it was the right decision."
Jones and his young family have learned a lot from taking in a teenager.
"She's taught us a lot," Jones said. "Having a blended family, everyone doesn't have to have the same last name. Family becomes what you make it. When you start caring about their failures and their successes and you're there for all of it. You're going to be there regardless. That's what it is with Lashanti. I'll be here for her whatever she decides to do, good, bad or indifferent. Me and my wife took on that responsibility and we're going to see it through, no matter where it ends."
Williams has high hopes for her post-high school track career. Williams wants to break the school records, win a national championship, run for Nike and potentially compete in the Olympics.
Williams will be signing with a Historically Black College and University to run track. She chose the Aggies over Oregon and Arizona State.
As an African American athlete, the opportunity to take her talents to an HBCU is a bit of a liberating feat.
In light of social justice movements around the country, there has been a movement by young amateur athletes taking a more serious look at HBCUs.
Five-star basketball player Makur Maker signed to play with Howard University this summer. Deion Sanders has attracted multiple players with Power Five potential to Jackson State.
Williams is the latest to make a statement in bringing spotlight to HBCU athletics.
Williams could have joined an Oregon program that has won two national championships in the last six years. She wanted a different experience.
"I chose an HBCU because I felt like I could do great things there," Williams said. "Doing great things at an HBCU would be something unexpected."