ODU Scores Late to Rally Past NSU, 24-21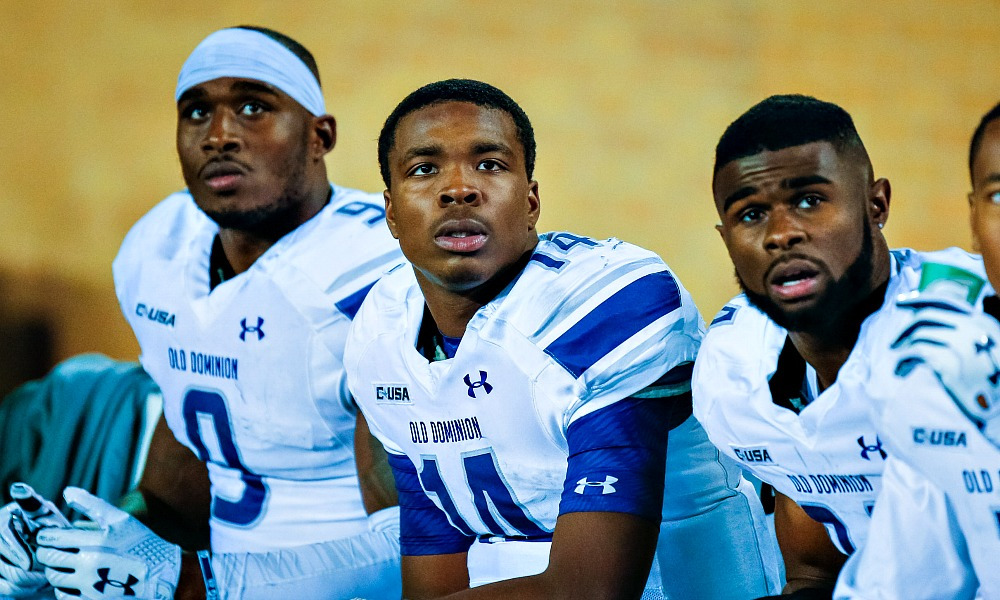 NORFOLK, Va. – Lala Davis scored on a 2-yard touchdown run with 3:21 remaining in the game to lift Old Dominion to a come-from-behind 24-21 win over Norfolk State in the season opener for the two teams Saturday night at S.B. Ballard Stadium.
The Spartans rallied from a 14-0 first-quarter deficit, scoring twice in the fourth quarter to ultimately pull ahead of the Monarchs (1-0) 21-17 on a 9-yard touchdown run by quarterback Juwan Carter with 5:56 remaining. ODU had the answer, though, driving 72 yards in 10 plays to retake the lead on Davis' short scoring run.
The Spartans got the ball back and picked up one first down. But on the sixth play of their drive, Carter's pass down the seam was intercepted by ODU defensive back Lance Boykin, and the Monarchs ran out the clock to preserve the win in the fourth all-time meeting between Norfolk's two college football programs.
ODU, playing for the first time in its new stadium, started quickly. The Monarchs took the opening kickoff and drove 65 yards in 11 plays before Kesean Strong scored on an 11-yard TD run a little more than six minutes into the game.
A three-and-out and short punt by the Spartans set ODU up with good field position on the Monarchs' next possession, and they took advantage. Quarterback Stone Smartt capped a short seven-play, 40-yard drive with a 12-yard TD run for a 14-0 ODU lead with 3:48 left in the first quarter.
The Monarchs outgained NSU 104-5 in total offense in the opening period.
But NSU shook off the slow start and began turning around the momentum in the second quarter. Carter hit redshirt freshman Da'Kendall James for a 57-yard TD pass with 8:22 left in the second quarter to turn the tide. The PAT missed, but NSU was within 14-6.
The Monarchs stretched the lead to 11 on their first drive of the third quarter thanks to Nick Rice's 26-yard field goal. But NSU mounted a spirited rally in the fourth quarter. Freshman Devyn Coles started it when he intercepted a deep pass and returned it to the ODU 43. Six plays later, Carter found tight end Shawn McFarland on a 1-yard TD pass, and then connected with James on the two-point conversion try to bring NSU within 17-14 with 11:03 remaining.
The Spartans again turned ODU over on the ensuing possession when safety Nhyre' Quinerly picked off a pass from Smartt. Carter then led an eight-play, 57-yard drive, which he capped with a nifty 9-yard scoring run on 3rd-and-1 with 5:56 left.
But the Monarchs quickly responded. A 31-yard completion from Smartt to Eric Kumah on 3rd-and-9 got ODU into the red zone and was the key play on the go-ahead 10-play drive.
ODU held a slim 292-268 edge in total offense. Carter completed 19-of-29 passes for 199 yards and two touchdowns for NSU, while also rushing for a team-high 51 yards and another score. James, a Chesapeake native in his first game as a Spartan after transferring from Coastal Carolina, caught five passes for 101 yards.
Smartt passed for 158 yards and ran for 62 for the Monarchs.
The Spartans are back in action next Saturday in their home opener, a 6 p.m. contest against Virginia State at Dick Price Stadium.