NSU Announces Battle of the States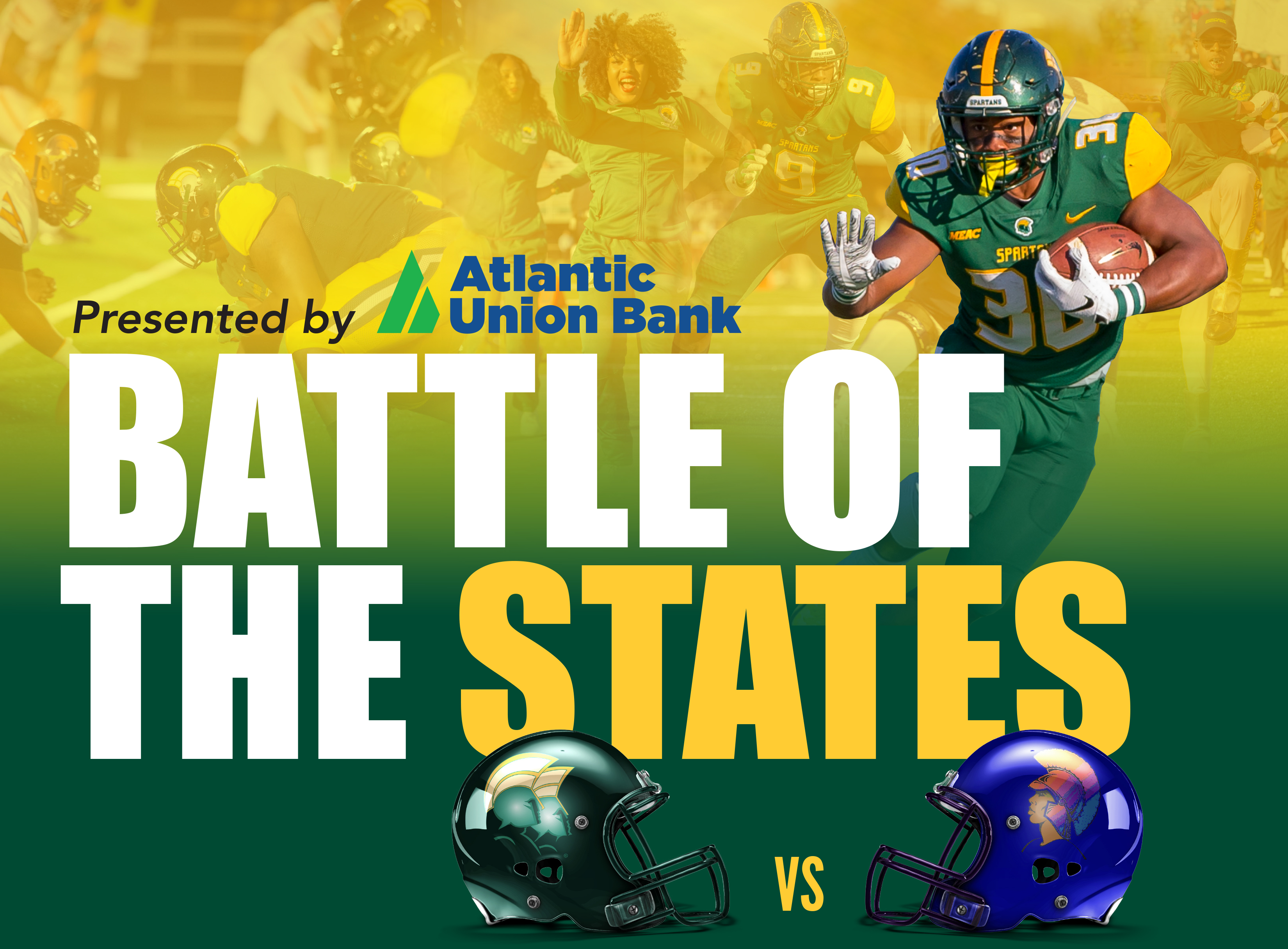 NORFOLK, Va. – The Norfolk State University Department of Athletics unveiled Tuesday three days' worth of exciting activities leading up to the Battle of the States football game, which culminates in the Spartan football team's 2019 home opener against long-time rival Virginia State on Saturday, Sept. 7. Spartan Corporate Partner Atlantic Union Bank (www.atlanticunionbank.com) is the title sponsor for the 2019 Battle of the States.

The weekend begins with the Spartan Health Fest from 10 a.m. to 4 p.m. in the Student Center on Thursday, Sept. 5. The health fest includes a blood drive and various health screenings for the community, with various services to promote well-being.

Later that evening, the Department of Athletics will holds its second annual Heels and Helmets Football 101 clinic for women from 6-8 p.m. at William "Dick" Price Stadium. The interactive introduction to football for women will be led by local football experts teaching the ins and outs of the game. The women's clinic will be followed by a powder puff game. The event costs $25 for non-students, and $10 for students. To register, contact Michelle MacFarlane at (757) 823-8152.

The schedule for Friday, Sept. 6 features a number of events. Spirit hour will be held from noon to 2 p.m. at the NSU Student Center and gives the campus community the opportunity to show its school spirit and support for the Spartan football team.

The NSU Athletics Hall of Fame Induction dinner and ceremony will be held from 7-9 p.m. on Friday, Sept. 6 at the NSU Student Center, Room 149. Former Spartan coaches Marty Miller, James Sweat and LaVerne Sweat, and former standout athletes Kirwyn Adderley, Thea Aspiras, Don Carey, David Pope and Kevin Talley will be honored during the event. Tickets are $75 each or $700 for a table of 10.

Friday concludes with Casino Royale from 9:30 p.m. to 2 a.m. at the Town Point Club. The event features a night of blackjack, poker, roulette, craps and more. Various raffle prizes will be available for attendees. Table sponsorship opportunities are also available. Tickets are $50 through Aug. 30, and $75 after Aug. 30, with proceeds benefitting NSU Athletics scholarship initiatives. For more information, contact Melody Webb at (757) 823-8404.

On game day (Sept. 7), tailgating lots open at 10 a.m. Greek organizations from both universities will take part in a Greek stroll-off beginning at 4 p.m. at the NSU Student Center. The 53rd all-time gridiron meeting between NSU and VSU will kick off at 6 p.m. at William "Dick" Price Stadium.

Tickets for the Hall of Fame Induction and Casino Royale are on sale now at NSUSpartansTickets.com and at the NSU Ticket Center on campus. Season football tickets and individual game tickets are also on sale at both locations.

For more information on The Battle of the States week activities, download the flyer attached or call (757) 823-8152.