Howard Men's Tennis Welcomes Three for the 2021 Season
Updated: September 22, 2020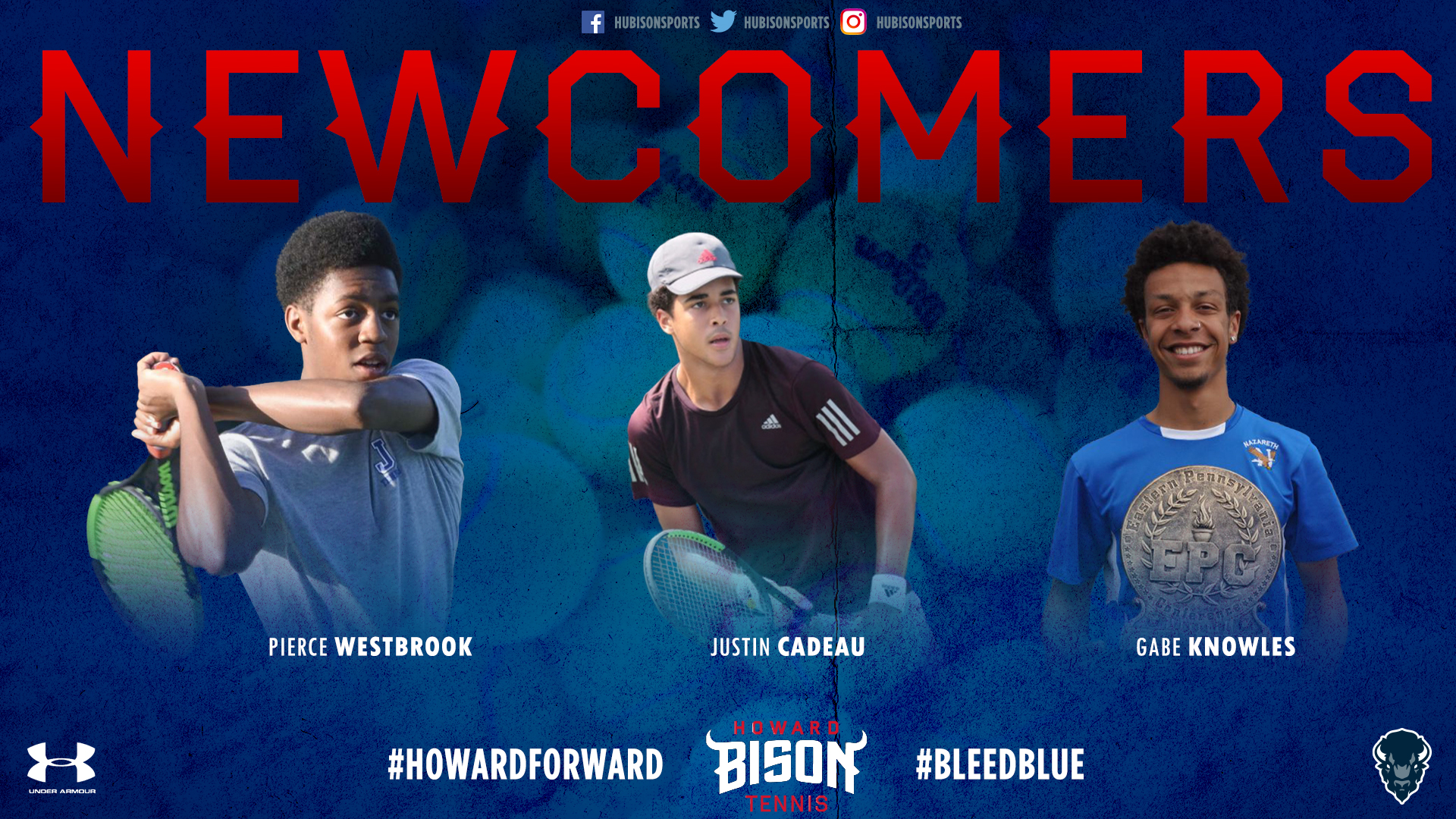 Howard University Men's Tennis program inked three new Bison for the 2021 campaign, featuring outstanding student-athletes looking to major in political science.
"Our program has continued to search and attract the top talent throughout the U.S. and other countries," said Howard Director of Tennis Nicholas Askew. "We are excited about these new additions and eager to see them represent Bison Nation."
Here is more information on the three newcomers in alphabetical order by last name:
Justin Cadeau (West Orange H.S./West Orange, N.J.)
Cadeau comes to Howard looking to make an immediate impact on the program after being a 4-star rated player for years and had an undefeated 2018-19 high school season. In addition, the New Jersey native was named to the West Orange High School Honor Roll list.
"Justin has an impressive match play history," Askew expressed. "That experience will easily translate to the highly competitive collegiate environment."
The six-foot freshman chose Howard because of the invigorating atmosphere. While attending HU, he plans to study political science with a future in law.
Gabe Knowles (Nazareth Area H.S./Wind Gap, Pa.)
Knowles arrives from Wind Gap, Pa., where he was a standout student-athlete at Nazareth Area High School. After producing an impressive resume at Nazareth, which includes outstanding individual performances in USTA Sectional and National level Tournaments, the Pennsylvania product made All-Conference First Team and looks to be part of the rich history HU has to offer.
"Gabe brings a great tennis resume to the program," Askew stated. "He has seen success and I'm looking forward to seeing him bring his worker's mentality to our program and contributing to its success."
Knowles is pursuing an education in political science with the hope of becoming a civil rights lawyer. In May, Knowles was named a 2020 Spring Sport Scholar-Athlete at Nazareth.
Pierce Westbrook (Jesuit High School/New Orleans, La.)
Westbrook hails from The Big Easy where he was named a state and regional runner-up at Jesuit High School. Additionally, he was promoted to the No. 1 doubles position while being a member of the National Honor Society.
"Pierce's calm and collective nature will prove to be valuable in his development," Askew commented. "I foresee him making big strides in a short time."
After making Jesuit's Honor Roll list, the New Orleans native plans to pursue an education in political science while following his family's pedigree at The Mecca. Westbrook's parents are both Howard alum.
Askew, who is an alum of the Tennis program and has worked with the top coaches and players in the U.S., enters his first season at the helm for the Bison Tennis program.