Santiago Perez wins regional singles championship
Updated: September 21, 2020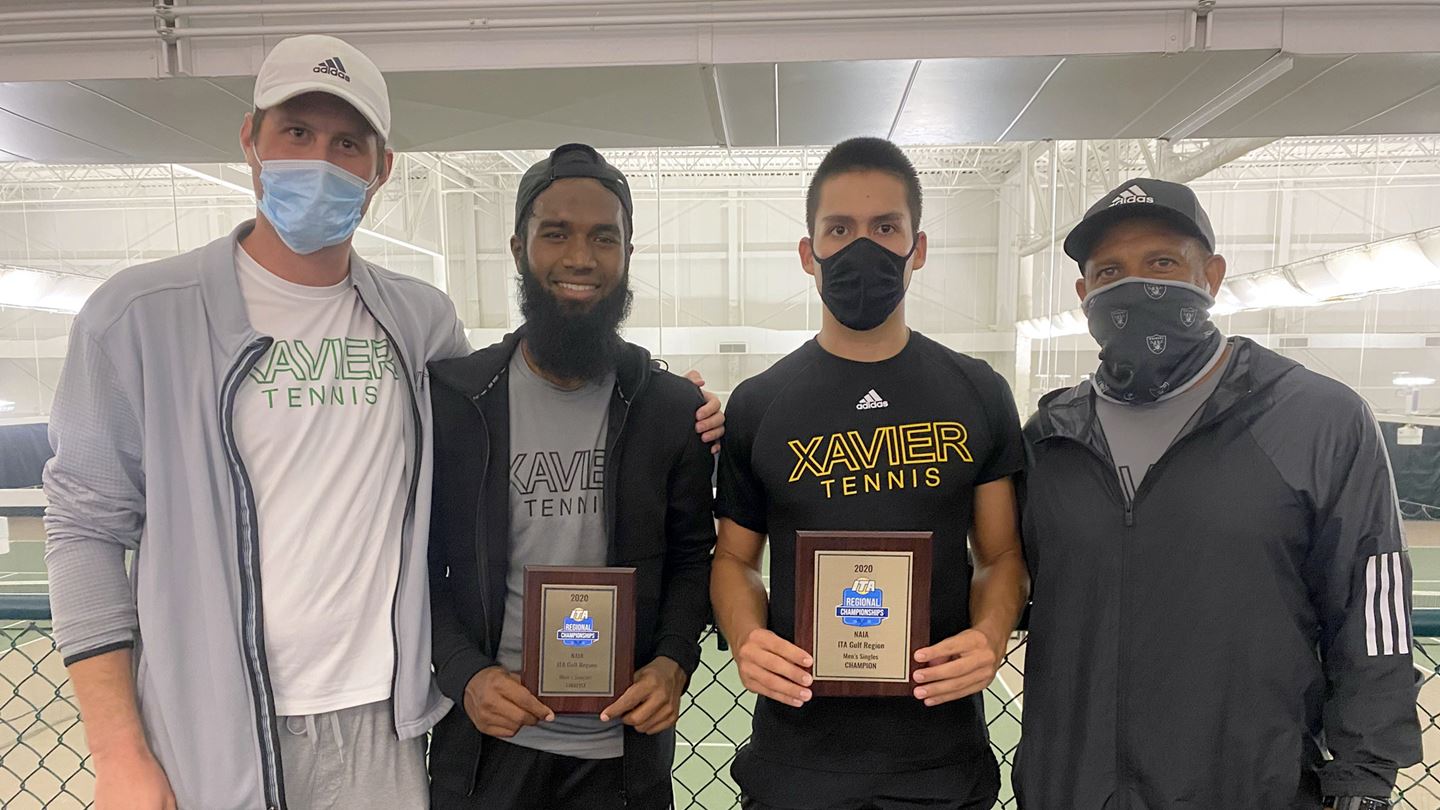 Xavier University of Louisiana's Santiago Perez earned his second title in two days, defeating teammate Shaikh Abdullah 6-0, 6-3 Sunday in the men's singles final of the ITA NAIA Gulf Regional Championships at the Hilton New Orleans Riverside.
Perez — a junior, a two-time NAIA All-American and the tournament's top seed — won the first seven games and the final four in the 62-minute match. In all he broke the serve of Abdullah, who was seeded second, in 6-of-8 games.
        "I played very solid," Perez said. "I was very accurate in making shots. That was the most important part of the match."
        Perez and Abdullah both advanced to the ITA Oracle Cup with other NAIA regional champions Oct. 16-18 at Rome, Ga. Perez will play singles and team up with Abdullah in doubles. Perez and Abdullah won 6-2, 6-3 against Sam Marin and Joseph Short of city rival Loyola in the doubles final Saturday.
        Abdullah was most competitive in the middle of the second set. He broke Perez's serve in the second game of that set and was on serve with a 3-2 lead. But at 3-all Abdullah could not close after building a 40-15 lead on his serve.
        "I made too many unforced errors," Abdullah said. "I was setting up points well, but when it was time to convert, I fell short. Santi kept putting balls back in my court, but I kept missing."
        Abdullah is a senior and a three-time NAIA All-American.
        "Today was an indication of us having a good foundation to be able to go into the spring with," said Alan Green, who coaches XULA's men and women. "Santiago played extremely well today, and Shaikh did not play bad. I'm excited to see what will happen in Rome and during the spring season."
        The three-day event was XULA's first athletic competition since a 6-1 women's tennis home victory March 13 against Lewis-Clark State. The COVID-19 pandemic canceled the remainder of XULA's spring 2020 tennis season and all track and field outdoor competitions. XULA athletics staff returned to campus Aug. 3, and the first day of classes for the fall semester was Aug. 17.
        It was the second consecutive day that matches were played at the Hilton. XULA Tennis Center was the original tournament site, but rain and wind from Tropical Storm Beta pushed the event indoors for the weekend.
        "I like playing indoors," Perez said. "I felt I had a little bit of an advantage indoors over Shaikh."
        The women's bracket of the ITA NAIA Gulf Regional was postponed to Oct. 2-4 at XULA.